Installment: How to build an Oil Tank

Kustoms Inc. has been around awhile, in the Detroit suburb of Grand Ledge.
Hang on for a chance to win this bike. The odds will be terrific, so step up and enter, or subscribe to Bandit's Cantina on Bikernet.com, or Cycle Source Magazine, and we will take care of your entry into the drawing towards the end of the year. In the meantime, grab a beer and enjoy this build process monthly on Bikernet, or on the crumpled pages of Cycle Source magazine.
Last issue, we discussed the myriad of top-notch components flying at this build, and how Jason built the frame, at Texas Frame Works, around the master's configuration and the pre-bent contoured backbone. The master is the boss of the 28-year- old shop, Kustoms Inc. and Evil Engineering, Gary Maurer.
Gary recently took possession of the Texas Frame Works rigid frame, the magnificent Crazy Horse 100-inch engine, the Baker transmission, Accel electronics, and of course, an Evil primary drive system.

"I like to design the sheet metal and frame around the complete drive line," Gary said. He has a build theory based on the major components in place during the frame and sheet metal design process.
This time, the frame was built behind his configuration, then in went the engine and trans, so he could design sheet metal befitting the lines of the frame and make it cup the engine and trans. He asked Jason to stretch the frame to allow him the space to install the battery behind the trans and in front of the fender.
"I like to build bikes with the battery under the transmission," Gary said, "but they're a bastard to work on."
In this case, the bike will be built as an everyday rider, so ease of maintenance is a major consideration. Here's the twist of the month, and a major element in the formula behind Kustoms Inc's success. Gary opened his shop in 1982 as a part-time endeavor. He was 22 at the time, and shortly after, he kicked it up to full-time in 1983. About that time, a 16-year-old high school sweetheart wandered into the shop and enjoyed the vibe. Julie Gilford started answering the phone. Her family taught her work ethics and didn't allow her to sit around on her cute ass.

Gary made most of his cash flow by repairing and painting Grand Ledge Post Office Jeeps and building race cars. Since the shop consisted of Gary and usually just one helper, Julie picked up tools, cleaned the shop, then started to perform mechanical duties. In 1985, Julie graduated from Grand Ledge High School, and Gary dodged child-endangerment charges.
Over the next couple of decades, Julie became adept at all aspects of fabrication aside from welding (she doesn't like the heat), and manipulating the lathe (it broke Gary's wrist recently). Together, they built 100 ground-up professional racecars, all the Baker fat tire kits, and won best-engineered cars at multiple drag meets. His cars set A Dragster, and Top Funny Car records. "Moon Eyes still runs my '32 Bonneville roadster," Gary said. One of his cars was listed in the top 10 Streetrodders of the year a few years back.
Julie grew into a major fabrication team member within the tight Kustoms Inc. crew. She built frame tables, fabrication jigs, and runs the mill with her long deep brunette hair pulled into a tight bun. "If she took on welding and running the lathe, I would be out of a job," Gary said humbly. They have worked together for 28 years so far, and she rides. Three years ago, she hit a deer, but that's a harried tale for another time.
So Julie jumped at the chance to dig in on the first fabrication build project for the Bikernet/Cycle Source Sweepstakes build, the oil tank. Kustoms Inc. offers several hand-built oil bags. They manufacture a couple of sizes in a donut configuration, with a hole down the center. They also offer a couple of sizes in this oval shape. Julie cuts out the end plates and then forms the oblong, barrel-like exterior. Gary machined mounting bungs using stock Harley gas tank rubber mounts to fasten the oil bag to the frame securely.
Julie drilled the holes in the tank for mounting bungs and oil line fittings. Gary ran the feed line to one end, the return line at the other end, and the vent line near the filler cap. They also drilled and positioned the drain cap bung and the filler cap bung.
After building precision racecars for a couple of decades, fabricating custom motorcycles is all about fun. "At one time, I had to hide my motorcycles when the car guys showed up," Gary said. "Now the car guys want a chopper to match their racecar.
Sure, bikes have always been the bottom rung, low-class outlaws. It never changes.
Don't miss the next episode. They bought a set of '90s, 3.5 gallon, H-D fatbob gas tanks. Julie will form the pieces to eliminate the dash dish and make them pure flat-sided tanks. Gary will mount them on either side of the frame so the frame will be visible down the center.

"This bike will be built to ride, but look cool," Gary said.
Don't miss the next episode, or a chance to win this puppy.
–Bandit


Click here to Enter to Win or join the Cantina.
BIKERNET/CYCLE SOURCE BUILD SOURCES

Click on the XPress logo for a hot cup of Joe.
Xpress
http://mysmartcup.com/


Crazy Horse
http://www.crazyhorsemotorcycles.com/



Texas Bike Works
www.TexasBikeWorks.com


Kustoms Inc.
KustomsInc@hotmail.com


Chop Docs
www.Chopdocschoppers.com



3 Guyz
www.3Guyz.com

Accel
Accel-ignition.com


Fab Kevin
http://www.fabkevin.com/home.htm

Evil Engineering
www.evil-engineering.com




D&D Exhaust
http://www.danddexhaust.com/


Wire Plus
http://www.wire-plus.com/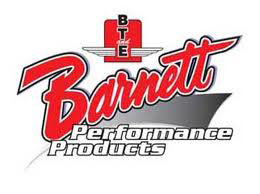 Barnett
Barnettclutches.com



Rocking K Custom Leathers
howard.knight@montana.com


>

Rivera Primo
www.RiveraPrimoInc.com


Spectro Oils
www.Spectro-oils.com


Bell
www.moto@rcn.com

Metzeler Tires
www.metzelermoto.com



Hawg Halters
www.HawgHalters.com
Handy Industries
www.HandyIndustries.com



Grip Ace
www.gripace.com



Biker's Choice
www.bikerschoice.com



Click on the banner quick for more info.
Aeromach
www.aeromachmfg.com



Ride Wright Wheels
www.ridewrightwheels.com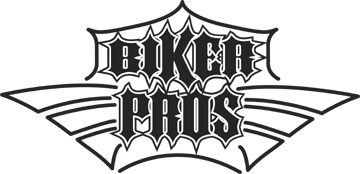 Biker Pros
www.BikerPros.com


Bare Knuckle Choppers
www.bareknucklechoppers.com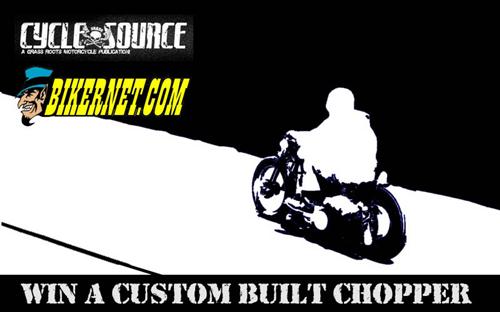 Click on this logo to check out Bandit's Subscriptions and enter to win!